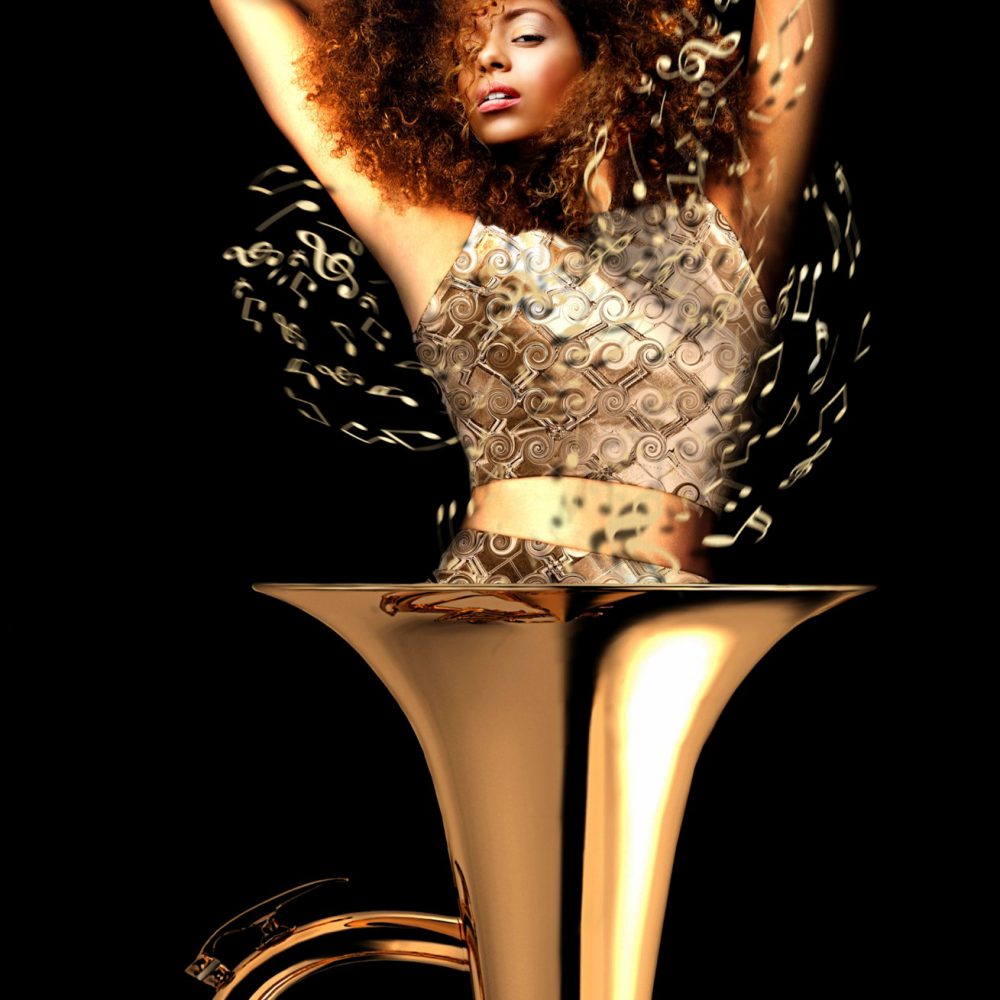 Specifications of That Jazz
Acrylic Facemount Size

21″ x 48″, 17″ x 38″, 12″ x 28″
15 Artist Proof / 50 Limited Edition
"Music was my refuge. I could crawl into space between the notes and curl my back to loneliness."
I designed this piece to pay homage to some of the greatest trumpet players to ever live; Miles Davis, Dizzy Gillespie, Louis Armstrong, and Wynton Marsalis to name a few.
When you play the trumpet and you're hitting all the notes the right way, you can't deny the fact that it's one sexy instrument. Having the woman emerge out of the bell while being caressed by the flowing music notes is symbolic of the relationship between sound and emotion.
---
You are purchasing an exclusive limited-edition piece of art. Each piece receives a digitized signature and as well as a certificate of authenticity. There is a hologram identification system that verifies its authenticity. The inks, photopaper, glass and certification are crafted with the finest archival materials that is graded to last beyond 100 yrs. The pieces are face mounted between two pieces of museum/optical grade acrylic glass; providing a sleek and modern appearance.
Alexander Nicholas Art pieces are created in multiple edition variations. For more information about any of the editions listed below, please contact an Art Specialist via email by simply visiting our contact page.
High Definition Artist Proofs
With each standard image release, only 15 - 32 numbered and signed High-Definition Artist Proofs are made available. These editions are regarded as personal to the artist and therefore highly sought after by collectors. Please contact an Art Specialist via email by simply visiting our contact page.
1 of 1 original pieces
These pieces are one of a kind and of the utmost exclusivity. Alexander Nicholas Art will never reproduce another one outside of damage in shipping.
Why does the price of the artwork change over time?
Alexander Nicholas Art Limited Editions are produced in a pre-determined edition size. As demand for one of Alexander Nicholas Art goes up, so does the price. Collecting early guarantees you are also receiving the most competitive pricing available.
What is a Limited Edition?
Limited Edition means that there will only ever be a pre-determined number of prints produced of each photograph. Once the edition sells out, there will never be another reprint of that photograph. Alexander Nicholas Art Editions come in multiple sizes ranging from 1 - 99 signed prints.
Will you ever re-publish a Limited-Edition artwork?
Absolutely not. Each edition is produced in limited numbers never to be reproduced.
Can I order a design on canvas?
Yes, you can. To assist you in selecting, please contact an Art Specialist via email by simply visiting our contact page.
---